As one of the rapidly developing country, Australia has a very special standards to kinds of Machinery, for example overhead cranes,steel structures etc.As the top three crane manufacturer in China, DJCRANES has exported lots of overhead cranes,gantry cranes,electric wire rope hoists and electric chain hoists to Australia,all of DJ CRANES' product has passed CE,ISO,SGS certificates.

CE Certificate of DJ CRANES' products
Trailer plant needs Overhead Crane profile
Australia is carried by the road transport industry. Day and night, this industry with its many heroes, carries Australian produce and equipment from where it is, to where its got to go. It's what makes this country tick,The name, XX Trailers, is one name that is synonymous with this reliability. More and more transport companies are putting XX to work for them. More and more progressive farmers are delivering their valuable grain in XX. More and more coal hauling contractors are basing their contracts on XX.
Overhead Crane requirements
To increase the quantity of trailers, XX Trailers established 4 new warehouse which will be settled 20 sets European single girder overhead cranes.
Before made the final deal, the Australia client visited DJ cranes' factory, located in CHANGYUAN city,Henan province, the "crane home town of China", DJCRANES has more than 2,700 employees, of which the number of managerial and technical personnel more than 400, and senior engineers more than 80. Our factory covering an area of over 680,000m2.has 2000 sets of advanced processing and testing equipment,which enable the company to independently complete more than 20 high-standard processes in the production of cranes.
After visited our factory and communicated with DJCRANES people,the Australia clients are very surprised to DJCRANES strength and design drawings,then signed the contract within one week after Australian client come back.


DJ cranes' solution to meet Australia client's needs
To need client's needs, our overhead cranes are totally customized to fit  workshops and application needs. In the following the main parameters of the 20 sets of overhead cranes for the Australian client will be presented for your reference to get your best fit crane solutions.
Main parameters of 20 sets of overhead cranes
Below is our Australia Clients' Requirements and DJCRANES design three drawings of European single girder overhead crane to meet clients :
European single girder overhead crane—-5sets
Lifting capacity: 5ton
Span: 17.262 meters
Lifting height: 6.5 meters
Power supply: 415V 50HZ 3P
European single girder overhead crane—-10sets
Lifting capacity: 5+5ton
Span: 17.262 meters
Lifting height: 6.5 meters
Power supply: 415V 50HZ 3P
European single girder overhead crane—-5sets
Lifting capacity: 10 ton
Span: 17.262 meters
Lifting height: 6.5 meters
Power supply: 415V 50HZ 3P
Customized overhead cranes are always be the optimal crane solution for particular applications. If you want to know more about the project or have need or inquiry, please feel free to contact us by leaving a message below.
Features of European single girder overhead crane
Main girder is made by high strength I beam,light dead weight and lower height
End carriages are welded with rectangular tubes.
Main girder and End carriages assembled with bolts and nuts easily and fast.
Hoist can is low headroom model,the hook can be lifting higher.
Electrics used Schneider brand original from France.
Motor,reducer,brake three in one with best brand,such as SEW,ABM,ABB,Siemens etc
Control can be pendant control,wireless remote control and cabin control from TELECRANE.
Safety devices included,such as buffer,limit switch,overload limiter,voltage and current protection equipment etc
Working class A5 and meet European FEM,DIN standard.
Overhead Crane Production Process
For every production stage, DJCRANES taken the photos and sent all of them to our Australia client to assure the quality of our EOT cranes,from semi-finished,finished,package and delivery etc.



Semi-finished European single girder overhead crane


Finished European single girder overhead crane
Overhead Crane Package and Delivery
As the overhead crane will be delivered by 40 feet top container with the total length around 11.8m whereas the crane span is more than 11.8 meters, we designed to divided the single girder gantry crane span into two separate parts which will be assembled into one whole at Australian client trailer plant and it is very reliable and safety is guaranteed,then start the package,all of the package is based on international export standard.
After package finished, DJCRANES booked the vessel and arranged the truck to our factory to load the 20 sets overhead crane.During the loading, our logistic department workers fixed the crane well once it is loaded.



European single girder overhead crane package and delivery
Overhead Crane Installations
Customer installed the 20 sets overhead crane by themselves according to our installations manual and electrics drawings.During the installations, they have little difficulty in connecting the cranes electrics, DJCRANES take action at once and helped client solved the problem. Finally, Australian client finished the installations successfully, and very satisfied with our overhead crane's quality and DJCRANES service. DJCRANES has promised the warranty during which if any parts damaged because of quality, will send them to clients free of charge.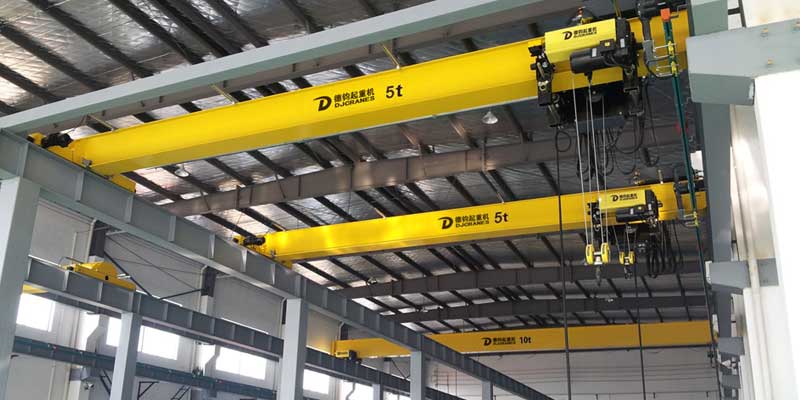 Finished installation of European single girder overhead crane
Conclusion of Australian Project
Above is the whole process of DJCRANES cooperated with overseas clients, DJ CRANES pay much attention to long terms cooperation, not only one order, so product quality and after-sales service is the first consideration. So if you have any cranes or hoists requirements, just tell us and we are expected to help you deign a perfect solution!