Introduction of German-style Electric Winch
German-style electric winch, a light and small equipment that uses a drum to wind a steel wire rope or chain to lift or pulling heavy goods. It is also known as a winch hoist which can lift heavy goods horizontally or slantingly. The winch is divided into manual winch, electric winch and hydraulic winch. Nowadays, electric winches have a wider range of applications. It can be used alone or as a component part of machinery such as lifting, road construction and mining lifting. Because of its simple operation and large amount of rope winding. The displacement is convenient and widely used. Mainly used for material lifting or flat towing in construction, water conservancy projects, forestry, mountain expansion, docks, etc.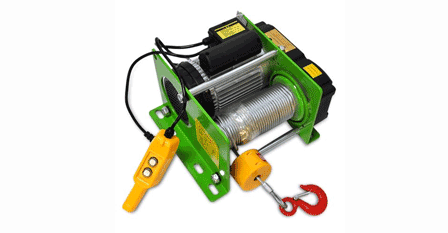 T he future of German-style Electric Winch.
Fast heat dissipation, it can work continuously for 10 hours without shutting down.
Water-proof and oil-proof, it can be used for a long time, and the operation is simple.
The hook adopts thickening treatment, which is not easy to deform or break.
It can be lifted in multiple directions, moved left and right. The whole machine can withstand a high temperature of 180°C and easy to fix. It is a compact and durable winch.
On May 31st, we received the customer's inquiry about the electric winch. And give the specific parameters, the equivalent product can also be accepted. After carefully checking the customer's email, the parameters of our product German-style winch are little different from those of the customer. After confirmation, the customer finally accepted our product. The following picture is datasheet of German-style electric winch.

3 00KG Electric Winch Specification:
Lifting capacity: 300KG
Lifting height: 60M
Voltage: 240V 60HZ 1Phase
Wire rope diameter: 4mm
This is the specifications of electric winch for customer. The products can be made according to specific requirements, because all of products are customized products. If you need customized electric winch, please feel free to contact us or contact Berg directly. Email: berg@dejunindustry.com.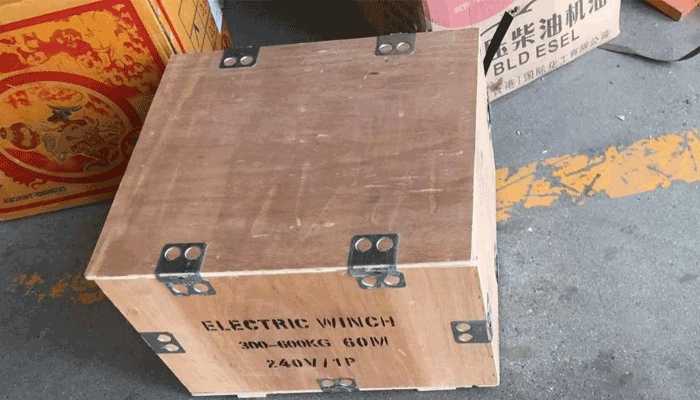 Electric Winch Packaging
The Packaging of Electric Winch
Before delivery, the electric winch will be packed which is fully meet the international transport standard. The winch will be packed by plywood. The surface is flat, free of fumigation, free of commodity inspection, high load, waterproof, non-toxic, and can carry any export products, when we use plywood. Its appearance and performance are much better than natural wood packaging that has been used extensively in the past, which is conducive to improving the grade of export products, and can reduce complicated procedures and procedures such as fumigation and commodity inspection, improve work efficiency, and promote foreign trade exports.
This time our German-style winch uses plastic spraying technology. It has the following features:
No need for thinner materials, it does not pollute the environment, and non-toxic to humans.
The coating has excellent appearance and quality, strong adhesion and mechanical strength.
Short curing time for spraying.
The coating has higher performance for anti-corrosion and abrasion resistance.
During the electrostatic spraying process, the flow phenomenon that is common in the spray painting process will not occur.
Dejun Crane can customize the winch according to your working condition and requirements. We not only can supply German-style electric winch but also other type of electric winch, so if you have need about the winch, please contact us or Berg freely. Email: berg@dejunindustry.com. We will supply you the most suitable electric winch.